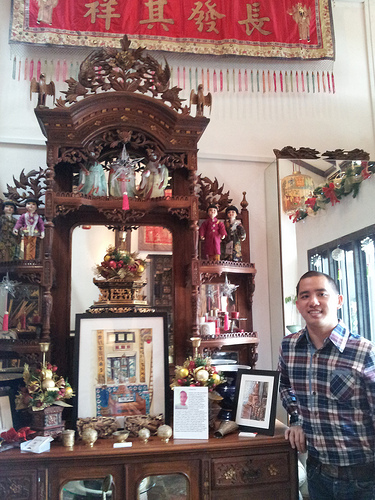 Peranakan Silence 2012
The Intan and The Singapore Association of the Deaf (SADeaf) present
Peranakan Silence – A Collaborative charity exhibition brings to life Peranakan colors through the eyes of deaf artists
Singapore's award-winning private home museum The Intan, and The Singapore Association for the Deaf (SADeaf) are please to present Peranakan Silence, a collaborative charity exhibition by five deaf artists. This inaugural charity event will be officially open by Ag Minister Tan Chuan-Jin at 8pm, 7 Dec at The Intan.
Peranakan Silence showcases a series of 17 works of art depicting various Peranakan artefacts, cultures and lifestyles found at The Intan. Professionally curated by Sogan Art Gallery, a local art gallery that strongly supports Singaporean artists, the deaf artists trace the wealth of Peranakan cultures and their significance in Singapore society.Based on their keen observations and peppered with lots of subtle humours, the artists re-tell their stories in contemporary setting, creating familiar everyday scenes and yet, ones that still retain the strong Peranakan heritage. The pieces will be available for sale after the exhibition concludes on 9 December 2012.
70% proceeds from the sale of the exhibited art pieces will go to the deaf artists and the remaining 30% will be donated to SADeaf to assist them in the operating cost of providing services to their deaf clients.
Peranakan Silence allows The Intan to be a platform for the deaf community to showcase their artistic talents. Having learnt sign language and a volunteer to deaf students when he was in the university, Alvin, the owner of The Intan, chose to work with the deaf for this project as he wanted the deaf artists to "capture the elaborate details in Peranakan material culture in a world without sound". For him, the pieces bring to life the artists' talent and are testament to their determination to overcome adversity in their lives.